Have you ever been to a hospital and noticed that the nurses are in a rush? You are witnessing the nationwide shortage of nurses.
Maybe you've had to wait longer than usual for your medication. Or, did you experience delays in getting the care you need?
If so, you are not alone.
The nationwide nursing shortage is a growing problem. It is impacting the quality of healthcare for many Americans. Experts believe that the shortage of registered nurses (RNs) will keep increasing! This shortage is leading to a huge change in the healthcare industry.
Take a break from your labs and study while we examine this key issue: demand for nurses. We'll explore the statistics, causes and effects of the nursing shortage.
Buckle up and get ready to connect the dots.
The Demands for Nurses Nationwide
The nursing shortage in the USA is not just a problem: It's a looming crisis. Shortages threaten the accessibility of healthcare for Americans. We know, you have to see it to believe it. Let's take a closer look at the statistics that show the urgent need for more nurses nationwide.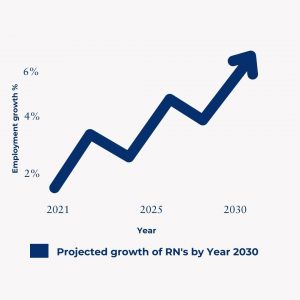 According to the Bureau of Labor Statistics (BLS), the employment of registered nurses (RNs) is projected to grow by a whopping 6% from 2021 to 20301. That's much faster than the average for all occupations!
But…What is driving this growth?
Increased emphasis on preventative care
Growing rates of chronic conditions (like diabetes and obesity)
Demand for healthcare services from the aging population.
Here's the thing, it's not just a question of more people needing healthcare. The nursing workforce is aging, and many nurses are getting near retirement age.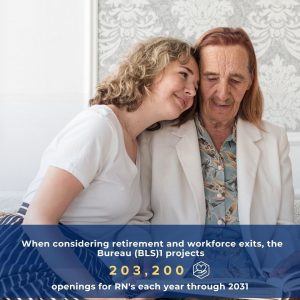 When considering retirement and workforce exits, the Bureau (BLS)1 projects 203,200 openings for RNs each year through 2031.
Wait…there is more!
Where are the nurses needed?
Rural areas are facing an even greater shortage of nurses. The Health Resources and Services Administration (HRSA) reports that the nursing shortage is not evenly distributed across the United States2. In 2018, the HRSA estimated that the need for RNs in rural areas exceeded the availability by 1,703 full-time equivalent (FTE) nurses. That means that people living in rural areas have less access to healthcare services and may have to travel further to get the care they need.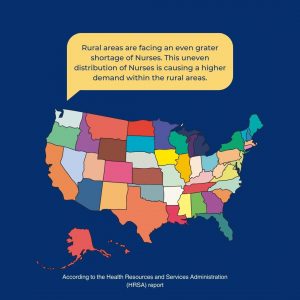 The COVID-19 pandemic has only made matters worse. According to the American Nurses Association, the pandemic has caused many nurses to retire early, take time off, or leave the profession altogether3. As a result, this has put additional strain on an already stretched-thin nursing workforce.
So, what do all these numbers mean? We're facing a serious, growing nursing shortage in the US!
And, it means we need more nurses everywhere in the US. Demand is especially increasing for well-educated nurses. We can't make it any more obvious: now is the time to begin your career in nursing. At Beckfield College, we provide a high standard of education and training to prepare our nursing students to take the lead in the future.
The Demand for Nurses
A. Demographic shifts and aging population
An Aging
G
eneration
According to the U.S. Census Bureau, by 2030, all baby boomers will be aged 65 or older, which will make up approximately 20% of the U.S. population4.

Increased life expectancy
The National Center for Health Statistics reports that the average life expectancy in the United States increased from 68.2 years in 1950 to 76.4 years in 20215.
Rising prevalence of chronic diseases
The Centers for Disease Control and Prevention (CDC) state that six in ten adults in the U.S. have a chronic disease, and four in ten have two or more chronic diseases, placing a significant burden on the healthcare system6.
B. Expanding healthcare services.
Advances in medical technology and treatments
The World Health Organization (WHO) highlights those advances in medical technology, such as new diagnostic tools and treatments, have contributed to increased demand for skilled healthcare professionals, including nurses7.

With rapid advancements in medical technology, choosing the right educational institution can be a challenge for many students. At Beckfield College, we focus on equipping our students with the knowledge and hands-on training needed to navigate and adapt to ever-evolving technology in their careers.

Expansion of healthcare coverage
The Kaiser Family Foundation estimates that approximately 20 million people (about the population of New York) gained insurance coverage due to the Affordable Care Act (ACA) between 2010 and 2021, increasing the number of individuals accessing healthcare services8.

The CDC underscores the importance of preventive care in improving overall health, and the ACA has expanded coverage for preventive services, leading to increased demand for healthcare providers, including nurses, to deliver these services9.
C. Evolving roles of nurses.
Increasing specialization within the nursing profession
The American Nurses Association (ANA) lists over 100 nursing specialties, reflecting the growing need for specialized skills and knowledge in different areas of healthcare10.

Growth of nurse practitioners and advanced practice nurses
The Bureau of Labor Statistics (BLS) projects a 52% increase in the employment of nurse practitioners from 2020 to 2030, much faster than the average for all occupations11.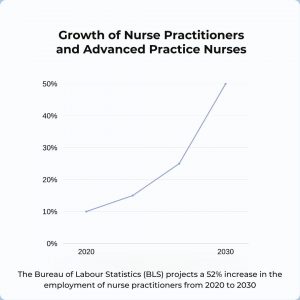 Nurses take on leadership and managerial roles.
The Institute of Medicine's report, "The Future of Nursing: Leading Change, Advancing Health," recommends that nurses should be prepared to take on leadership roles in healthcare systems and organizations to improve patient outcomes and shape healthcare policy12.
For career seeking individuals, the real question is: how the growing demand for nurses in the United States makes nursing a great choice?
Let's dive into some of the benefits that come with being a nurse, from job security to personal fulfillment, in a friendly and casual way.
Job security and stability
In today's unpredictable job market, it's a relief to know that nursing is a profession with excellent job security. Of course, no one can guarantee anything these days. But, the increasing demand for healthcare services, nurses are always needed, making it one of the most stable career choices out there based on the demand. Plus, the flexibility to work in various settings, from hospitals to private practices, ensuring that you'll never run out of options.

Diverse career opportunities and specializations
One of the most exciting aspects of nursing is the sheer variety of career paths and specializations you can explore.
Are you interested in working with newborns? You might become a neonatal nurse. Perhaps you have a passion for helping those with heart conditions? Cardiac nursing could be your calling. With over 100 nursing specialties, you're sure to find the perfect fit for your interests and skills.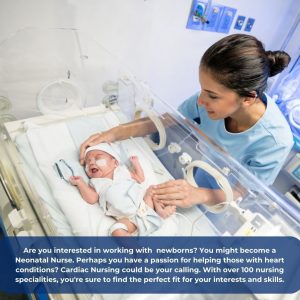 Personal fulfillment and making a difference in people's lives
If you're looking for a career that allows you to make a real impact on others, nursing is undoubtedly one of the most rewarding choices. As a nurse, you'll have the opportunity to provide compassionate care, offer emotional support, and educate patients and their families. The connections you'll forge and the lives you'll touch will bring a profound sense of satisfaction and purpose to your work.

Competitive salaries and benefits
While it's essential to choose a career that aligns with your passions, it doesn't hurt to know that nursing also offers competitive salaries and benefits. Depending on your experience, education, and location, you can enjoy a comfortable income in this in-demand field. Plus, many healthcare employers offer excellent benefits packages, including health insurance, retirement plans, and even tuition reimbursement for continued education.
Many people explore their career options to make sure they have all their questions answered before making any decision. When it comes to nursing career, based on everything above… you've got a winning choice.
If you still have an unanswered question let us answer these questions for you, contact us now.
The nursing shortage in the USA is a critical problem that affects patients, healthcare workers, and the healthcare system. You can view the nursing shortage in two ways: as a crisis or as an opportunity to invest in your career. The nursing career or healthcare in general need human beings. The rise of technology and AI will need a long time to begin providing substitution. The increasing demand for nurses today could be a blessing for your future if you made the right choice.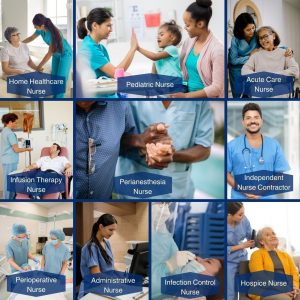 https://www.bls.gov/ooh/healthcare/registered-nurses.htm#tab-6

https://bhw.hrsa.gov/sites/default/files/bureau-health-workforce/data-research/nchwa-hrsa-nursing-report.pdf
https://www.aacnnursing.org/news-information/fact-sheets/nursing-shortage
https://www.census.gov/newsroom/press-releases/2018/cb18-41-population-projections.html
https://www.cdc.gov/nchs/fastats/life-expectancy.htm
https://www.cdc.gov/chronicdisease/about/preventive-care/index.html
https://www.who.int/director-general/speeches/detail/dr-margaret-chan-speaks-about-game-changing-innovations
https://www.kff.org/uninsured/issue-brief/key-facts-about-the-uninsured-population/
https://www.healthcare.gov/coverage/preventive-care-benefits/
https://www.nursingworld.org/practice-policy/nursing-excellence/specialty-recognition/
https://www.bls.gov/ooh/healthcare/nurse-anesthetists-nurse-midwives-and-nurse-practitioners.htm
https://nap.nationalacademies.org/catalog/12956/the-future-of-nursing-leading-change-advancing-health