Do you ever find yourself making rounds, or tending to patients and wonder, how can I make more of a difference in my nursing career? How can I reach the next level of responsibilities and increase my earning potential? If so, then it may be the right time for you to advance your nursing career with an RN to BSN degree.
RN to BSN Career Opportunities
A BSN can open new doors to many new career opportunities. BSN's are prepared to work in a variety of healthcare settings – from home healthcare to hospitals, to case management. When new RNs begin their careers, they start in entry-level patient care positions. Their responsibilities can include monitoring and recording patient progress and the majority of their instructions coming from doctors in their unit. A BSN degree helps build critical thinking and leadership skills beyond what ADN nurses have learned. This is why getting a BSN helps nurses move into positions with more responsibilities, leadership, and placement opportunities. Nurses with a BSN can work in public health, as a travel nurse, psychiatric nurse, nurse manager, case management, infection control or quality control nurse, and even a nursing educator… the possibilities are vast!
Becoming a Better Nurse
As you would expect, increasing your education will help you learn new skills and gain more knowledge to become a better nurse. According to the Journal of the American Medical Association, hospitals with a higher number of nurses with a BSN report lower mortality rates and failure-to-rescue rates than other facilities. Additionally, magnet hospitals have shifted their requirements for all nursing management to hold a bachelor's or graduate degree in Nursing.
A BSN Can Lead to Better Salary Opportunities
BSN nurses tend to earn higher salaries than ADN nurses, and their earnings steadily increase as they progress through their career and gain more experience. Salaries for BSN-holding nurses will vary based on location, but the Bureau of Labor Statistics states that the average salary for an RN in the state of Kentucky is $63,750 and $68,220 in Ohio.
Getting your RN to BSN
When thinking about going back to school to get your RN-BSN, there are many things to consider:
How long will it take?
How much support will I receive from the faculty and instructors?
Is the program accredited?
What will I learn?
Taitum Godfrey, R.N., a nursing instructor at Beckfield College, knows firsthand what it is like to work as an RN and pursue her BSN online. Taitum shared what she was looking for in a BSN program that would help her succeed:
"I was a nurse who wanted to make a difference. Being a non-traditional student myself, I needed help with nursing courses, and being in a large class felt overwhelming. After leaving another institution, I enrolled in Beckfield College's accredited online RN to BSN program, wanting, and hoping they could provide what I needed. 
My classes all had very small numbers of students; it felt more like a study group rather than student # 85 out of 158. The program was online, which provided great flexibility, yet I still felt connected with my instructors and peers. There were no teaching assistants, and Dr. Johnson, my instructor, was answering my discussion forums. When I needed help, my professors offered guidance, were punctual with emails, and made an effort to help myself and my classmates succeed. My experience was meaningful and provided growth in my career when I needed it most."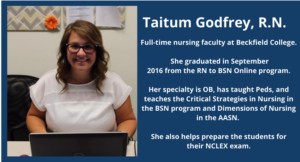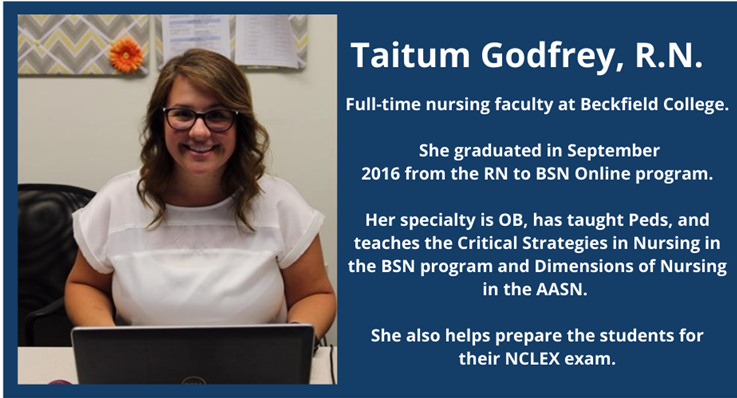 _______________________________________________
If you are interested in learning more about how to advance your nursing career at BeckfieldCollege, click here for more information regarding our online RN to BSN program. Our program can be completed in as little as 18 months and is accredited by the Commission on Collegiate Nursing Education (CCNE).